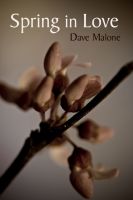 (Sorry, I had to channel my inner Bond there)
Over a year ago, I was lucky enough to win a contest. From that contest, I received a signed copy of a very lovely
book of poetry by Dave Malone
. And as wonderful as that book is, I'd have to say I was even more pleased in that I got a chance to become acquainted with the author himself.
Dave is truly a very wonderful acquaintance to have and so when he asked me to help him announce
his new book of poetry
and
new website
, I was thrilled to say yes.
Oh by the way, did I happen to mention the
book is free
?!
And if that isn't enough to entice you, here's some praise that just might do the job:
Dave Malone's poetry is funny and sexy and heart-breaking in its honesty. Malone's craft is impeccable, he can travel swiftly across oceans and continents, across memories, like Rimbaud with his wild boat. He is one of our great contemporary love poets, one who hasn't been squeezed dry by academia. In
Spring in Love,
Malone proves that poetry can still be unfettered, and fun.
—
Marilyn Kallet, author,
Packing Light: New and Selected Poems
; Director, Creative Writing Program, University of Tennessee.
Seriously, my dear readers, you need to get it. You'll enjoy it. And don't forget to check out his website, too:
When you do happen to check out his book and website, let me know what you think!
--------------------------------------------------------------------------------------------------------------------------
Thanks for all the very helpful comments yesterday! Based on my needs and general computer uses, I've decided to check out a MacBook Pro. I haven't used a Mac since high school (and they were old), so we'll see how lost I'll be! LOL! Thanks again everyone!